​
Announcements:
Welcome! ​
The Exercise Science Academy is a California Specialized Secondary Program, (X-SCI) is an integrated 9/10 program where students interested in athletics and personal fitness apply science and technology principles to increase performance in both their physical capabilities. This two-year 9th and 10th grade core consists of English 9/10, World History, Advanced Biology, SSP Kinesiology, SSP Athletic Survey Course exploring the most important sports related issues of our time, and two specially designed SSP Physical Education courses. Utilizing Common Core non-fiction texts will capture the enthusiasm of every student who loves being active and competitive. Sophisticated measurement tools are used by students as they use their own bodies to study the principles of biomechanics, thereby achieving athletic excellence and in the process learn habits for life-long fitness. Students will also volunteer "on-field", visit colleges and businesses that
offer exercise science related programs and widen their vision of career paths, which closely link athletics and science.
Powered by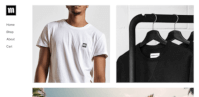 Create your own unique website with customizable templates.